Heavy Duty Lathe Machine Job Works
Our Organization has made a well-recognized name as a manufacturer of Heavy Duty Lathe Machine Job Works. We also emphasize on stringent quality standards, in contrast, to ensure that the products provide to our clients is always optimum to its level.
About Us !!
At Verma Engg. Works We are the reckoned manufacturer and supplier of supreme grade Lathe Machine Job Work, Machinery Parts, Fabricated Structures, and much more. The offer products are manufacture making use of optimum grade material with the help of cutting-edge techniques in compliance with set industry norms.
Our offer almost products are wide demand, in contrast, a number of mechanical industries and construction industries as ready to install structures. Even more, these products are made available in so different specifications of sizes, dimensions, and shapes for our clients to choose from. Therefore, we also provide Machining Job Work, Fabrication Work, and CNC Laser Cutting Work to our clients in contrast to a cost-effective manner.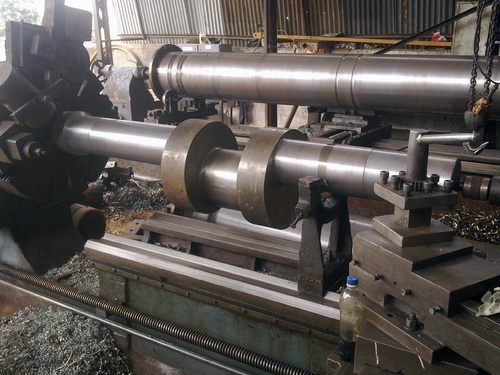 Heavy Duty Lathe Machine Job Works
We are a unique entity in the industry, actively committed to offering an optimum quality Heavy Duty Lathe Machining Job Works. Hence, this service is widely acknowledged for the reason that our precious clients owing to its promptness and cost-effectiveness features. As a result, Our skill professionals provide this service in the best possible manner.
Almost provide service is to execute our adept professionals using optimum quality tools and the latest technology. Moreover, our precious clients can avail of this service from us at the foremost reasonable price. therefore, our offer almost products are widely appreciated while our clients for their enormous features such as rugged construction, easy to install. For the rationale that noncorrosiveness, dimensional accuracy, ability to face up to so adverse climatic condition, and sturdiness.
In order to manufacture the offer products, so we also have set up a wide infrastructure unit that is equipped with modular machines and tools. Hence, these almost facilities enable us thanks to bring while consistency, thanks to business operations and production rates. Furthermore, We also offer these almost products at reasonable rates and deliver these within due to the promised time-frame.
Heavy Duty Lathe Machine Job Works The majority of industrial applications of machining are in metals. Although the metal cutting process has resisted theoretical to its complexity, the appliance of those processes within the industrial world is widespread. Metal cutting processes can be viewed as consisting of independent input variables, Heavy Duty Lathe Machine Job Works
dependent variables, and independent – dependent interactions or relationships. The engineer or machine tool operator has direct control over the input variables and can specify or select them when setting up the machining process. Several input variables are described below. Heavy Duty Lathe Machine Job Works
Heavy Duty Lathe Machine Job Works They often have large cutting forces or poor surface finishes, which can result in shortcutting tool life, yet these metals are selected to meet other functional design criteria. The size and shape of the workpiece may be dictated by preceding processes casting, forging, forming, and so forth or may be selected from standard machining stock, for example, Heavy Duty Lathe Machine Job Works
Heavy Duty Lathe Machine Job Works this variable directly influences the machining process or processes that are selected, as well as the depth of cut. The selection of machining processes required to convert the raw material into a finished product must be based on the geometry of the part size and shape, rotational or non-rotational, the required finishes and tolerances, and the quantity of the product to be made. Heavy Duty Lathe Machine Job Works
Heavy Duty Lathe Machine Job Works, it is necessary to select a cutting speed, a feed, and a depth of cut. Many factors impinge on these decisions because all of the dependent variables are influenced by them. Proper selection of variables also depends on the other input variables that have been elected, that is, the total amount of material to be removed, the workpiece and tool materials, and the machining process or processes. These need to be selected before preliminary choices for speed, feed, and depth of cut can be made.
Why Us?
Besides these, there are almost various factors that have help due to in becoming the first choice of our patrons:

Quality products
Experience R & D department
Expert professionals
Large production capacity
Customer oriente approach
On-time delivery
Infrastructure of our Company
Heavy Lathe Machine paperwork in Vadodara Lathe Machine Job Work We do all quite paperwork like Lathe machine paperwork, Heavy duty lathe machine paperwork, so Boring machine paperwork, Drilling machine paperwork , Fabrication paperwork, Shaft machining paperwork, also Flange machining paperwork, so Impeller machining paperwork, Shaft Machining paperwork Shaft Machining paperwork
Tubesheet Machining paperwork productivity with consistent quality getting to so meet the huge requirement and overall economy. Such automation enables quick and accurate auxiliary motions, handling operations like tool work mounting, Tubesheet Machining paperwork, Tubesheet Machining paperwork . repeatably with minimum human intervention but with the help so special so additional mechanism and control systems. These systems could even be of the mechanical, hydraulic, or electronic type or their combination.
Tubesheet Machining paperwork flexible automation also where the latter one is characterized by Computer Numerical. Tubesheet Machining paperwork , so and applications Control Shaft Machining paperwork. The spindle carrier remains stationary. Only the tool slides move then so cutting tool radially and axially. Automatic lathes are essentially used for the large lot production of small rod quite jobs. Shaft Machining Job Work. Heavy Lathe Machine Tubesheet Machining paperwork Tubesheet Machining paperwork.
Heavy Lathe Machine paperwork in Vadodara, here also each job is finished with in the respective station where it had been loaded. The set of cutting tools mostly fed only axially along so face of the continuously work on the same blank throughout its one cycle of the rotation alongside the spindle carrier Fabrication Job Work in Vadodara.
The tool ram having the same toolset on face also rotates are often simultaneously so the alongside spindle carrier which after rotation halts for a fast time for unloading the finished job and loading a fresh blank at so specific location Heavy Lathe Machine Job Work in Vadodara. Such a system is also suitable for also requiring very few and simple machining operations. Heavy Lathe Machine Job Work in Vadodara
Message Us
Get In touch below. Ask Any Question or Start a Free Quote
Call Us
(+91) 9825 446 322
Office Location
939/A, GIDC Industrial Estate, Makarpura,
Vadodara – 390010, Gujarat, India
Open Hours
M-F: 8am – 6pm, S-S, 9am – 1pm